Lameness: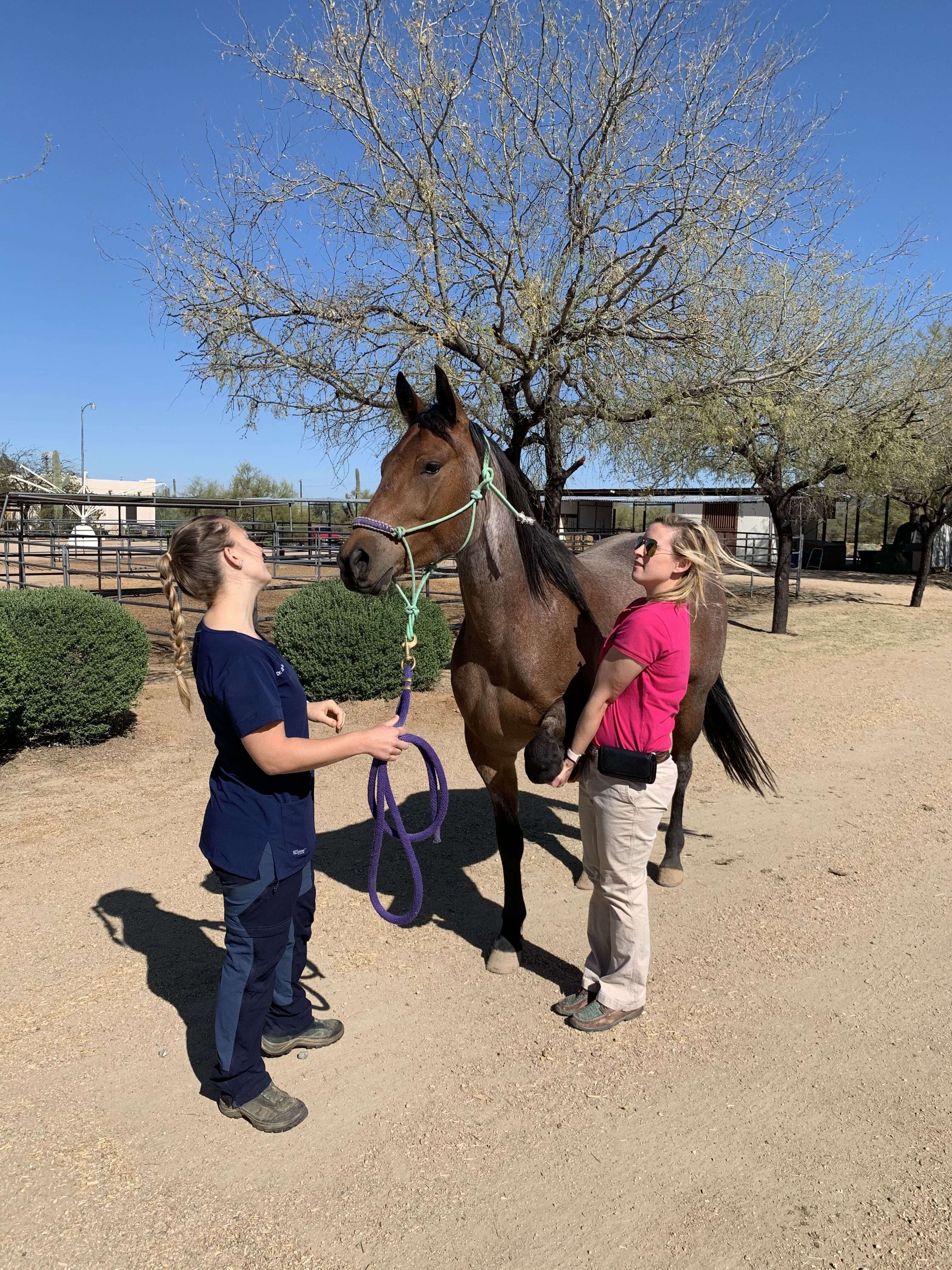 A lameness exam is performed when a horse is "off", limping, or not performing at its desired or expected levels. Lameness exams can range from a quick appointment in the field to an extensive, several day, in-hospital evaluation, depending on the complexity of the case and the expectations of the owner. Typically, a lameness evaluation begins with an examination consisting of visual observation at the walk, trot and sometimes in circles or at the canter on hard and softer surfaces. This is accompanied by hoof tester evaluation and limb flexion tests. Particular nerves and/or joints can be desensitized (local anesthesia) to determine the exact location of pain that is causing the lameness. Once the origin of lameness is identified, further diagnostics including ultrasound, radiographs, or an MRI are recommended. In difficult or abnormal cases, a bone scan (nuclear scintigraphy) may be recommended. Lameness exams typically result in a directed treatment strategy once a diagnosis is reached. This may include local therapy, injections, regenerative medicine, rest and rehabilitation, corrective shoeing, and sometimes surgery.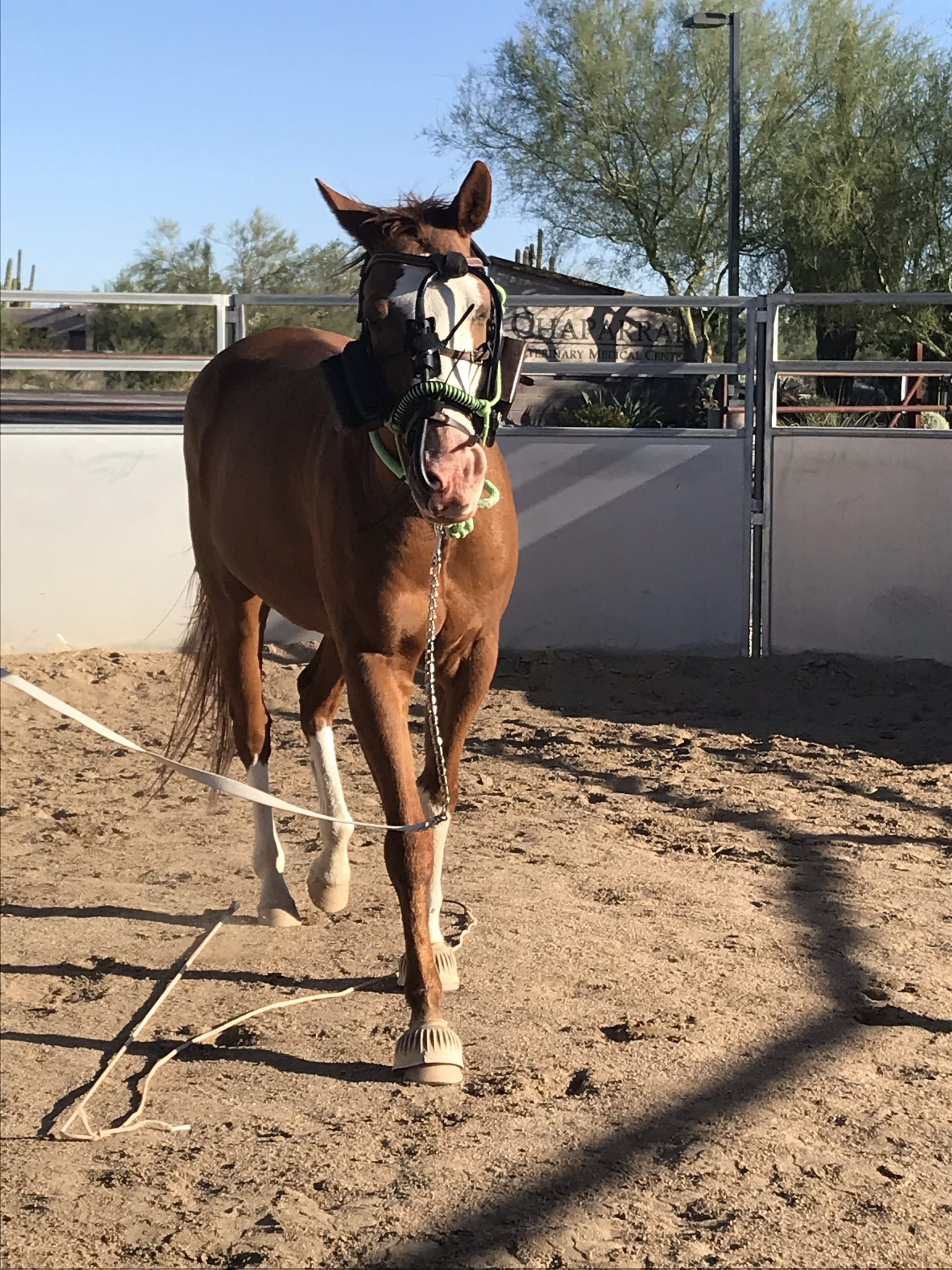 Pre-Purchase Examination (PPE):
The Pre-Purchase Examination is a "moment in time" examination of a horse to help medically define, that horse's suitability for its intended use. The examination not only includes a thorough physical examination but also typically includes a variety of ancillary tests tailored to the potential buyer's needs and budget. This evaluation will consider the horses' history, future use, age, and discipline.
The clinical evaluation includes a thorough physical examination of the horse's eyes, heart, lungs, mouth and teeth, skin, legs, hooves, and neurologic status. Breeding animals will also require a thorough examination of the reproductive tract.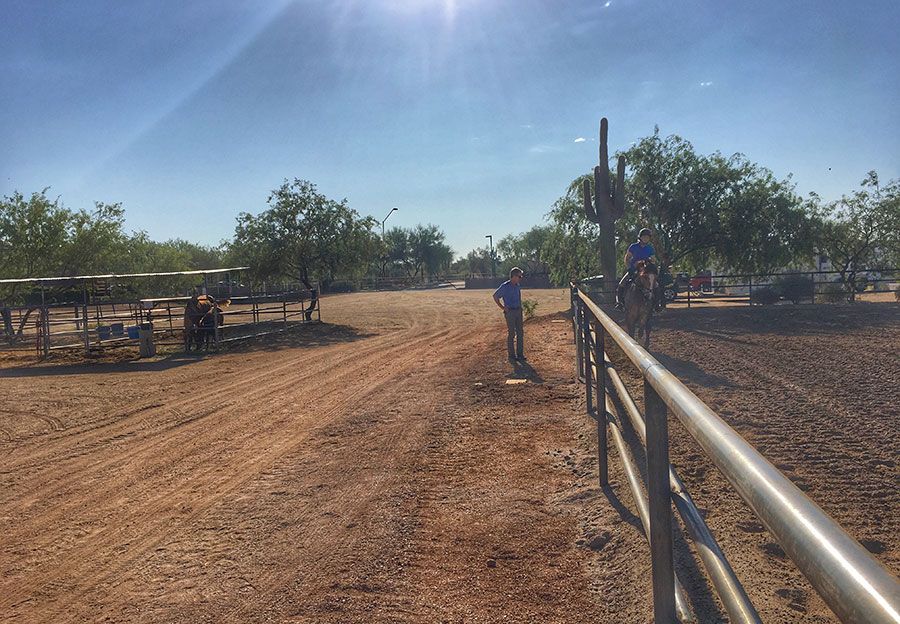 Sport and performance horses are typically evaluated in hand with flexion tests performed on all limbs. Whenever possible, the veterinarian will evaluate the horse during work: longing in a circle in both directions both on hard ground and in footing as well as under saddle. At CVMC we are equipped to perform a thorough pre-purchase examination either at the horse's barn through our ambulatory services or at our Cave Creek location. We are Arizona's only veterinary hospital with a large riding arena on the property as well as a round pen and hard ground surface for longing.
Whenever possible, it is important to evaluate the horse's medical history and when medical records are available our veterinarians will review these as part of the clinical examination. A written report is always a part of the pre-purchase examination and will include all ancillary tests results and copies of medical images. The veterinarians at CVMC do not "pass or fail" a horse but rather provide as much data and insight to the potential purchaser as possible so the buyer can make an informed decision.
Available Ancillary Tests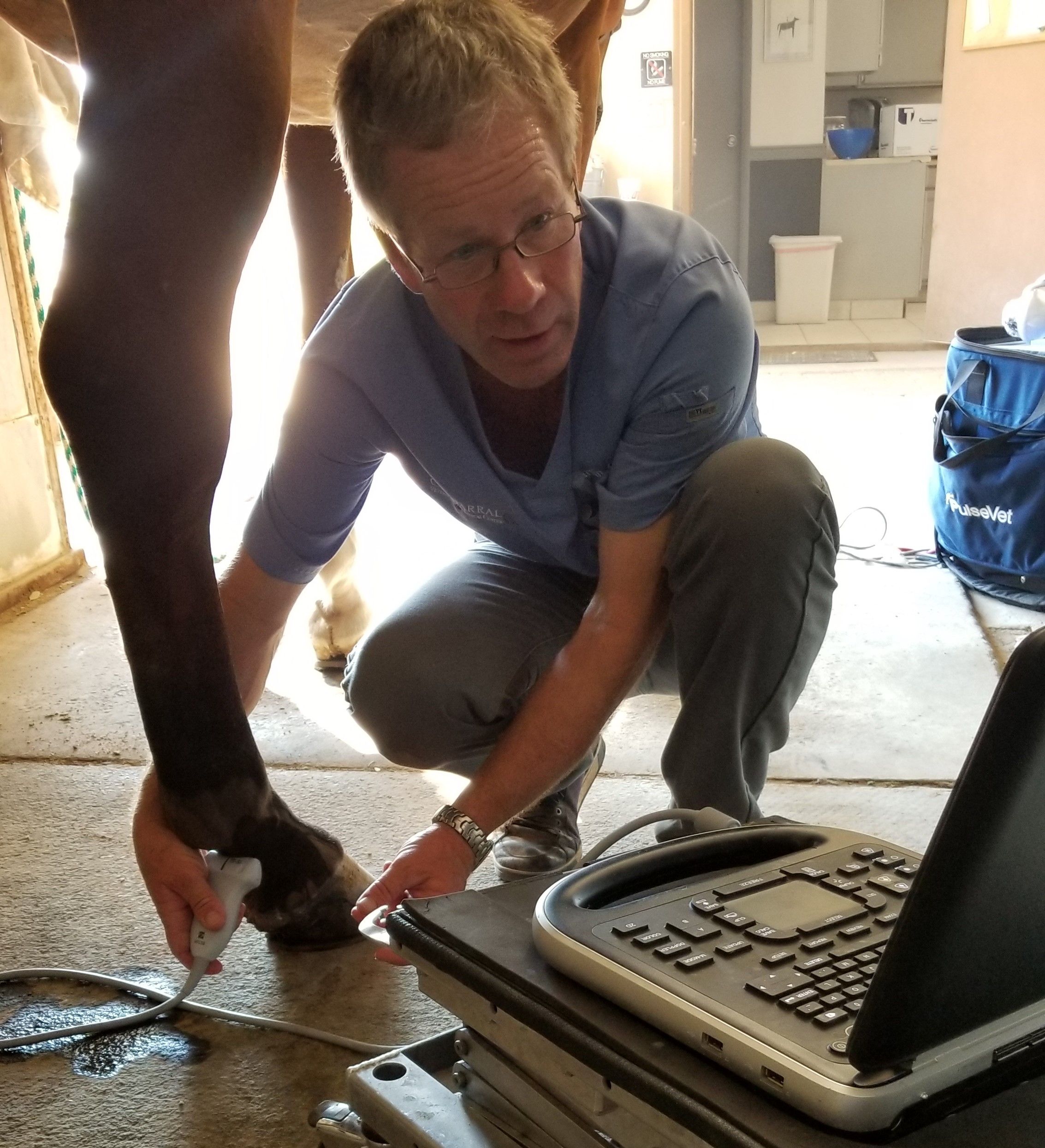 *Digital Radiographs (x-rays) – These are the most commonly employed ancillary tests in the performance horse and are commonly used to evaluate arthritis or injury in the front feet, fetlocks, hocks, knees and stifles. They are also valuable to screen young horses for OCD and other developmental abnormalities as well as to evaluate the neck for arthritis and the back for "kissing spines." In addition to providing insight into the purchase decision, radiographs can provide a valuable baseline that can be used for comparison if later problems arise or in a resale situation.
*Ultrasound – Used for evaluation of soft tissues, particularly tendons and ligaments of the lower limbs as well as other soft tissue swellings or abnormalities.
*Reproductive Exam – This includes procedures such as reproductive ultrasound, uterine culture and uterine biopsy in mares and semen evaluation in stallions.
*Endoscopic Examination – This is a video evaluation of the airway at rest and/or of the stomach to evaluate for ulcers.
*Dynamic Endoscopic Examination – Dynamic endoscopy provides an evaluation of a horse's airway function while being ridden. This is most important in horses making breathing noises while exercising.
*Coggins Test – A required test for interstate transport screening for Equine Infectious Anemia.
*Blood Profile – Provides a snapshot of the horse's overall health.
*Metabolic Testing – Testing for PPID (Cushing's) in older horses and for insulin resistance.
*Fecal Parasite Test – Tests for and quantifies intestinal worm populations.
*Drug Screening –This screening looks for pain or calming medications that may have been given to the horse prior to the examination.
*Genetic Testing - In horses with a propensity for muscle disease, genetic screening can be performed to screen for diseases such as polysaccharide storage myopathy (PSSM) or hyperkalemic periodic paralysis (HYPP).
Nuclear Scintigraphy – The "bone scan" identifies bony inflammation of the entire skeleton (whole body) and is performed under sedation at our hospital.
MRI – MRI is the best modality to assess soft tissues and bone issues not detected by x-rays of the feet. It can also be useful for other difficult areas such as the proximal suspensory ligament.
*Available both at the barn by our ambulatory services and at our Cave Creek Hospital
Call today to speak with one of our veterinarians familiar with your discipline to help guide you in selecting the best set of tests for your horse's Pre-Purchase Examination.

If you plan to have a PPE performed on a horse, the following forms can be helpful to provide to your veterinarian to guide the evaluation on the day of the exam.